R/V WARFISH
Our custom-built 45ft research vessel is specially designed for wildlife filming & conservation
AMENITIES
TWO SEAKEEPER STABILIZER GYROS NEW 2020!!
360˚ extended wrangle pulpit for wrangling tagging and filming
51" adjustable swim step
2 heavy duty cranes & a hauler
2 light boxes for deck work and lighting 4 LED panel lights for night diving & deck work
Removable side door for photography, tagging, tracking, etc 
Side & bottom scan sonar mapping 
Updated brand new touch screen navigation
Sleeps 4 up front, 6 total crew overnight 
Full bathroom, with shower 
Hot water outside shower 
32" Plamsa screen HDMI Compatible 
FLIR night vision and thermal cameras (on and off the boat view capability)
Camera array for security with the ability to record 
All navigation and touch screens can feed to plasma screen  
Bait boxes 
900 mile range 
15 ft beam with a draft of 3ft
Bow thruster 
Sirius satellite radio 
Satellite phone 
Equipped with C15 - 850 horse power Caterpillar Engine 
Fuel Capacity: 900 gallons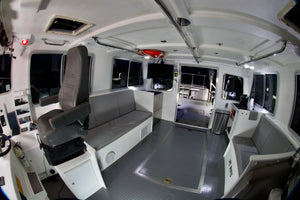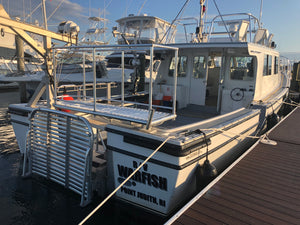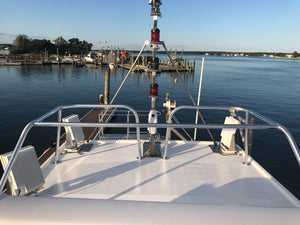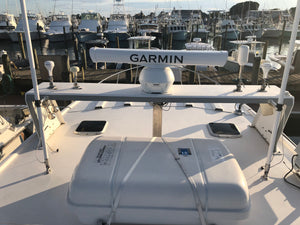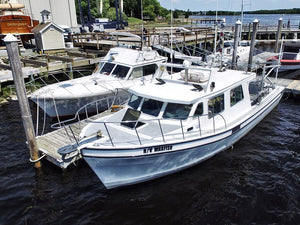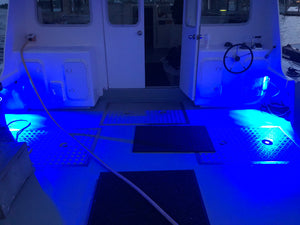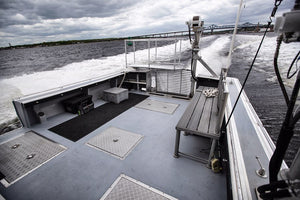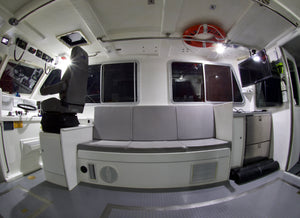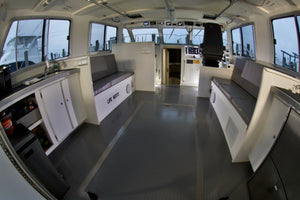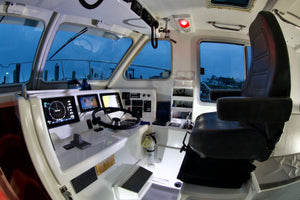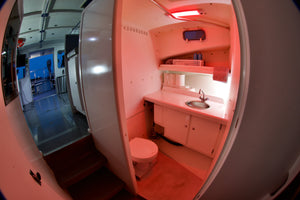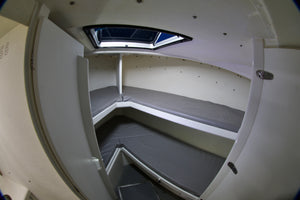 Productions [TV/Film/Media]
We have worked with many different production companies and have been featured in... 
-Giants of the Azores - Discovery Channel's Shark Week 2022
-Return to Shark Vortex - Discovery Channel's Shark Week 2021
-Great Whites Cape Cod - Discovery Channel's Shark Week 2020
-Bloodlines: Spawn of Jaws - Discovery Channel's Shark Week 2018
-Shark Vortex - Discovery Channel's Shark Week 2017
-Return of Monster Mako - Discovery Channel's Shark Week 2016
-Monster Mako - Discovery Channel's Shark Week 2015
-Featured in National Geographic Magazine
Our Organizations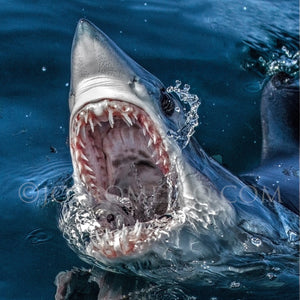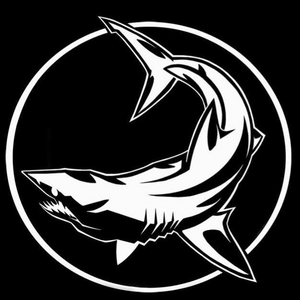 333 Productions
333 Productions LLC provides Hi Definition underwater cinematography of the highest quality, as well as stock footage, production coordination, expedition planning, underwater filming logistics, underwater/topside filming, as well as full post-production capabilities.
Rhode Island Shark Diving
Join Joe Romeiro, Lauren Benoit and Jamin Martinelli for New England's premiere blue and mako shark photography/videography expedition from June-September
Supporters
Anchor Auto Group, being a proud Ocean State – family-owned business, is committed to preserving Rhode Island's greatest asset – the ocean and the species that inhabit it – specifically the shark.  As such, Anchor proudly provides support to the Research Vessel Warfish. The Warfish and her team of Shark Experts are solely focused on studying, and, preserving the shark population, as well as allowing individuals to understand and appreciate sharks for better cohabitation.